Towns and villages with picturesque landscapes
Updated:2016-07-27

Text Size:[ L M S ]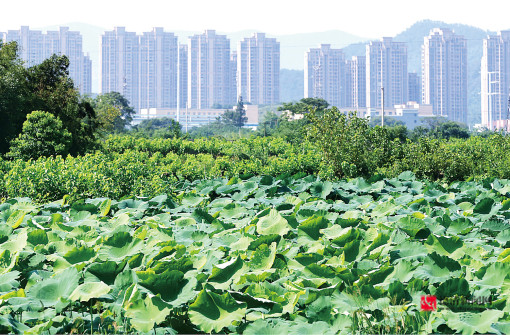 When arriving in Qiubei Village on Fuxi Street, people will see a rural countryside scenery with neatly-located houses and dancing lotus leaves. Located not far away, high-rise houses in the eastern area of the city stand row upon row, full of modern flavor. Aimed at building a city with modern landscapes and countryside, the county is now stepping forward toward this goal.
  Twenty years ago, Yao Binghua removed from Lianxing Village, his hometown, to Wukang to settle down, together with his family. Recently, the old couple repaired their old house, planning to return back to the hometown, as their children had married. Yao said, "we went to the town before, as the town was build well in all aspects; but now, the life in village is as convenient as in town, so old people like us just want to return back."
  Indeed, as Yao said, now more and more urban people want to go to the countryside to spend their old age, and more and more college students also enter villages to start up business. It is also the best interpretation of the overall development of towns and villages in the county. As rural areas are facing great changes, the difference between towns and villages is getting smaller, and a plan for the overall development of the county is to be worked out.
  Villagers turn to be equal with urban residents
  and public services equalize
  "Nowadays, my family faces less burdens on health care, thanks to the integrated medical insurance system", said Wang Liang (assumed name), a man living in Baotashan Village, Xiazhuhu Street. After his father suffered cancer many years ago, Wang had to deal with the medical insurance system. In recent years, he felt deeply that he could get more and more reimbursements on medical costs.
  Starting from January 1, 2014, "the urban medical insurance system" and "the new rural cooperative medical system" were integrated. As of late June this year, the number of Deqing residents included in the urban and rural medical insurance system had reached more than 202,000. In the future, it will no longer distinguish the household registration status, and villagers will enjoy the same treatment as urban residents in terms of medical costs and services.
  Besides, the county gradually improves a multi-level and sustainable social security system this year, to further enhance effort on medical assistance, temporary assistance funding and assistance force, and regulate subsistence allowances. A total of 297 people were approved to receive disposable medical aids in the first half of this year, with RMB 2.0114 million assistance fund having been earmarked and RMB 2 million temporary assistance fiscal budget having been hammered down. At the same time, the county is working on the "Opinions on implementation of integrated urban and rural unemployment insurance system in Deqing County". It reduced labor costs for enterprises, and temporarily lowered the unemployment insurance premium paid by enterprises, with the payment rate down from 1.5% to 1% starting from May 1, 2016.
  Now in Deqing, focusing on key fields such as public facilities, employment services, social security and social programs, the urban and rural overall development is moving forward step by step. Totally 290,000 rural people are enjoying rapid changes thanks to urban and rural overall development.
  Villages keep pace with towns
  and become more beautiful
  Quiet roads, green trees and upright villas ...villages are just like upscale residential districts in downtown.
  This is a scenery of Zhongxin Township, Lianxing Village. "This year, Lianxing Village is gearing up effort to build itself as a beautiful village, with its appearance changed greatly." Proudly said, Shen Weiming, secretary of the village Party branch.
  Apart from Lianxing Village, nowadays, if you walk around villages, it shows idyllic sceneries and leisurely living sceneries everywhere. This year, the county is planning to carry out a program for upgraded beautiful village, aiming to create a demonstration township in beautiful villages. In the first half of this year, it started the construction of the first batch of 11 upgraded beautiful villages in the mid-east region, including Lianxing Village, with more than 55% of the projects having been completed.
  Changes in rural appearance are not limited to it. "Going the whole figure" is anther new way of building a beautiful village. This year, it adds five points in addition to six points in totally 19 administrative villages, in which, Fatou Village, Dongshen Village and Liaoyuan Village in Moganshan Town are building garbage resource utilization stations, with the urban and rural garbage collection and household garbage harmless treatment rate hitting 100%.
  Rural wastewater treatment is always considered as a breakthrough in "wastewater treatment and beautiful village construction". This year, the county will carry out household wastewater interception and collection projects covering totally 25 villages and 5,000 peasant households, with 70% having been completed in the first half of this year.
  Stride forward from traditional to modern times
  with industrial transformation on the way
  The integration of towns and villages not only means the transformation of "people", but more particularly, it is an integration of industries and cities.
  "Traditional industries can also make profits." It refers to the residential industry of the county. In the first half of this year, the county received around 173,000 tourists through boutique homestay programs such as a representative program called "Yang Jia Le", with direct business income climbing to RMB 265 million, a 33.2% YoY growth. It can be said that the development of the residential industry makes western rural areas booming in the market-oriented economy, and makes farmers enjoy themselves in the market. It is the greatest change to villages brought by the industry.
  Today, with the fast development of e-commerce, the county Party committee and the county government spared no effort to encourage the development of online trading of agricultural products and build an e-commerce platform, in order to promote the continuously growing incomes of rural residents. Villages in Deqing are ushering into the Internet era nowadays, which is bound to bring more incomes to rural residents directly.
  In addition, the county continues to push the construction of a project called "Ten, Hundred and Thousand" based on the land transfer, so as to develop the high-efficiency agriculture rapidly. In the first half of this year, the county completed construction of 21,000 mu new demonstration areas under a planting and raising mode, and meanwhile it confirmed 11 demonstration bodies and 73 demonstration sites, among which, eight demonstration bodies have basically completed the construction task and are now preparing for the material acceptance. The rural per capita net income is expected to reach RMB 12,428 for the first half of this year, seeing a 8.3% YoY growth.