The county takes lead in agricultural modernization in province
Updated:2016-07-27

Text Size:[ L M S ]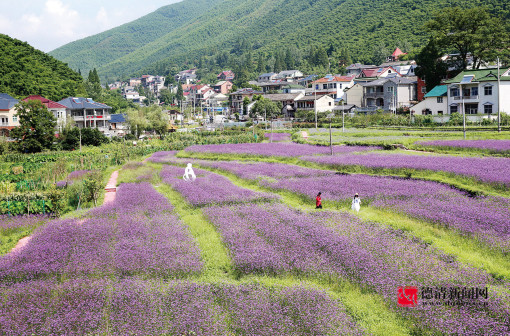 Green mountains, residential houses, lavender and tourists...These beautiful sceneries are not seen in a park, but are seen on a hillside of Houwu Village, Moganshan Town. The beautiful agriculture featuring leisure and sightseeing has become an important way of developing agricultural modernization in the county.
In the 2015 provincial (municipal, district) competition themed on agricultural modernization held recently, the county claimed the title successfully, ranking first in the province with a composite score. Since this year, adhering to the requirement of "ecology, safety and efficiency", the county has strengthened efforts to build "smart agriculture" and "beautiful agriculture", to cultivate the agricultural industry cluster and create "two upgraded agricultural areas", thus to push the continuous and fast development of the modern agriculture.
  According to statistics by the county agricultural bureau, the county is expected to contribute total value of agricultural output of RMB 1.535 billion from January to June, a faster growth from the comparable period of last year, with rural per capita net income hitting RMB 12,428, a 8.3% YoY growth.
  "Smart agriculture"
  roots farming area
  When walking into Deqing Green Sun Agricultural Ecology Co., Ltd. located in Moganshan Town, we found that a 500 mu factory container nursery project and a 300 mu fine flower production project have been completed. In particular, a top-grade flower production greenhouse with an area of 9,960 square meters in the park, which is equipped with an intelligent control system, makes a new progress this year, as the staff can use a smart phone APP in management so that it can save over 20% of labor forces.
  "Customers can see the growing trend of flowers in all greenhouses, and even a drop of water on the anthurium, via our Internet of Things; besides, they also can get familiar with the related growth parameters, so that they just place an order at offices and do not need to go to the site." Said Chen Jinyun, an administrator of the company.
  In the first half of this year, the county actively pushed the construction of "Internet Plus Agriculture", announcing two intelligent agricultural production zones and six demonstration sites for the Internet of Things.
  "Smart agriculture" makes farmers more relaxed, and the application of more and more new mature technologies and models provides more ways of making profits for farmers. Since this year, the county has continued to promote new-type planting and breeding modes, such as the plantation of rice along with turtles and shrimps, the grid cultivation of watermelons, and the plantation and breeding of cane shoots and turtles, as well as to introduce new varieties and technologies including promotion of high-yield rice varieties and cultivation of "two strong two high" rice. In the first half of this year, the county introduced 12 new varieties and promoted eight new technologies. Among them, the mode of "plantation of rice along with turtles" initiated by the New Port Modern Agriculture Comprehensive Zone has been promoted across the country.
  "Beautiful agriculture"
  sends out enchanting charm
  Nowadays, more and more urban residents prefer to walk on lanes in villages and visit farmlands. The ecological leisure and sightseeing agriculture in Deqing is developing fast along with rural tourism, exuding more enchanting charm.
  In the first half of this year, the county actively fostered modern agriculture business entities, and introduced the leisure and sightseeing function, to realize the transformation from agricultural park to tourist scenic spot. It enhanced effort on R&D and promotion of quality varieties of agricultural products, and introduce of a batch of new competitive well-known and high-quality agricultural products, to promote the upgrading of crop varieties. So far, the county has owned more than 123 county-level giant agricultural enterprises and 159 leisure agricultural parks, and has introduced 34 new varieties and 24 new technologies.
  Hu Jianping, head of the commercial crop station of the county agricultural bureau, said with deep feeling that the tea gardens in mountains in the western area of the county are just sightseeing spots, which form two most beautiful tea routes in China. To promote tea via tourism is a development trend for the future tea gardens. On this point, Kang Ruzhong, head of the Shiyi tea garden, agreed deeply with Hu. Therefore, he built a sightseeing area in his tea garden, with the aim to receive the tourists from all around the country and even the whole world. After the peak season of spring tea production, he was busy with decoration of guest rooms and restaurants so as to receive tea tourists in the second half of this year officially.
  It is reported that since the first half, plenty of modern agricultural complexes, such as "beautiful and safe pasture", "Mogan valley" and "dream water town", have been promoted rapidly, and meanwhile, a large number of leisure agricultural parks, such as "Xintian farm town" and "Mantian farm town", have started upgrading and transformation.
  "Two agricultural areas"
  create upgraded clusters
  The county's agricultural development always focuses on the construction of "two agricultural areas".
  Up to now, the county has developed three major agricultural comprehensive areas, including the New Port provincial-level modern agricultural comprehensive area, as well as a total of 36 provincial-level parks and 41 municipal-level parks, and built 89,800 mu grain production functional areas.
  Fei Jianqin, deputy chief of the industrial department of the county agricultural bureau, told journalists that the new "13th Five-year plan for modern agricultural development in Deqing County" has been accepted by the provincial expert group in early July. Starting from this year, the county is going to gear up effort to develop an agricultural industry cluster and a powerful agricultural town with modern features ("one cluster, one town"), with the aim to create two upgraded agricultural areas. Currently, it has confirmed the planning and construction of three industrial clusters, namely, a modern fishery economy demonstration area in the mid-east region, the Xiangxi modern agricultural comprehensive area in the mid-south region and the Moganshan modern forestry economy demonstration area in the western region, as well as five powerful agricultural towns with modern features, namely, Moganshan Town (leisure agricultural town), Xiazhuhu Street (fish town), Yuyue Town (silkworm town), Xin'an Town (grain and agricultural product processing town) and Luoshe Town (wood town), and it will include the "three regions and five towns" into the "13th Five-year Plan".
  Despite a great progress it has made, the deficiencies also exist. Cai Bingxiang, head of the agricultural crop station of the county agricultural bureau and the county's chief expert of rice, and Li Jianguo, deputy chief of the station, both said that the acreage of single-season late rice declined again this year, while the non-food trend turns remarkable, so the grain acreage is bound to decline year by year, and the grain production functional area faces conservation challenges. At the same time, due to the weak grassroots supervision, backward equipment and means, and farmers' lack of awareness, the promotion of pollution rectification for livestock and poultry breeding still faces much more difficulties.